Most Common idioms used in IELTS Exam Part 2
dressed to kill – wear one's finest clothing. She was dressed to kill
when I saw her at the convention last year.
 dribs and drabs – little by little, small quantities. She told us the
story in dribs and drabs.
drive at – try to say, insinuate. What were you driving at when you
said that insulting comment?
drive someone up a wall – make someone crazy. My son is
driving me up a wall!
 drop in the bucket – a small amount. The cost of fixing the sink
is a drop in the bucket compared to replacing the whole sink.
 drop out – one who doesn't complete a study course. My cousin
dropped out of college.
drown one's sorrows – drink liquor to forget one's problems. I
was so upset last night, that I drowned my sorrows at the bar.
dump – get rid of, reject – I can't believe you dumped your girlfriend.
dwell on – talk and think about something all the time. I know it is
a big decision, but you shouldn't dwell on it all day.
 eager beaver – ambitious, hard working. Charlie gets to work at
7:00 am everyday. He is an eager beaver.
earful – interesting gossip, information. My friend found out about
the local politician. I got an earful.
 egg someone on – push, urge. My wife didn't want to take the job,
but I egged her on.
elbow grease – strength for cleaning. I needed to use a lot of elbow
grease to get the dirt off the floor.
elbow room – enough space to be comfortable. It was so tight in
that restaurant. There wasn't any elbow room.
end up – finish. I heard that you got lost on your way home last
night. Where did you end up?
 every Tom, Dick and Harry – the average person, nobody
special. It seemed like every Tom, Dick and Harry came out to
purchase tickets for the movie.
 face the music – meet one's punishment, accept the consequences.
When he got caught stealing the money from the bank, he realized
that soon he would have to face the music.
face up to – accept something unpleasant or difficult. You need to
face up to the fact that you did not win the election.
fair and square – honest, honestly. I won the contest fair and square.
 fall apart – stop working properly, deteriorate. His old car
finally fell apart.
 fall behind – not be able to keep up, fail to maintain a schedule or
rate of speed. When she couldn't go to school because of her illness,
she significantly fell behind in her work.
 fall for – begin to love, have strong emotions for. I fell for her as
soon as I met her.
 fall off – decrease. Sales have been falling off since the economy
has slowed down.
 fall through – fail, collapse – The big sale I made at work
yesterday fell through this morning.
false alarm – warning or report that is untrue. She thought that
she was pregnant, but it was a false alarm.
 far-fetched – unlikely, exaggerated. The possibility of her receiving
a full scholarship is very far-fetched.
 fast buck – money obtained easily and often unethically. I know a way
we can make a fast buck.
 feather in one's cap – proud achievement. His speech went well
at the corporate meeting. It was a feather in his cap.
fed up with – had enough, disgusted with. She was fed up with his
attitude at the office.
 feel in one's bones – know by intuition, feel certain without
evidence. I believe he is going to get the promotion. I can just feel it in
my bones.
feel like a million bucks – feel wonderful. I felt like a million
bucks when I wore my new suit to the wedding.
 feel like two cents – feel ashamed or embarrassed. I felt like two
cents when I dropped the birthday cake on the floor.
 feel sorry for – pity. She felt sorry for him when she heard the
news of his accident.
fender bender – minor accident. I had a fender bender on my way
to work this morning.
 fiddle around – work without a definite plan and knowledge. The
clock was broken, so he fiddled around with it until he got it to work.
 figure out – try to understand, solve. She couldn't figure out one of
her math problems.
 fill someone in – tell a person the details. We had the meeting
yesterday when you were out. Let me fill you in on what you missed.
find fault – complain, criticize – She always seems to find fault with
any of my friends.
 fish out of water – someone who does not fit in. She felt like a
fish out of water when she went to the party in her formal dress while
everyone else was wearing jeans.
 fishy – suspicious, false sounding. Your company is giving you a
month off from work? That sounds a bit fishy.
 fix someone up – arrange a date for someone. I fixed her up with
my best friend.
 flip one's lid – get angry, go crazy, become very excited. He flipped
his lid when he found out his son stole some candy from the store.
floor someone – surprise, confuse. I was floored when I found out
they had made me a surprise birthday party.
flop – failure – His business ended up being a flop.
 fly off the handle – get angry. Her mother flew off the handle
when she found out that her daughter dropped out of college.
 fly the coop – leave suddenly, run away. As soon as he turned
eighteen years old, he flew the coop.
 fly-by-night – unreliable, untrustworthy. I don't want to buy my
computer from that store. It's a fly-by-night company; they may not be
in business next year.
foot in the door – opening , hopeful beginning of success. It is
not my idea of a perfect job, but at least I have my foot in the door with
a great company.
 foot the bill – pay. Who is going to foot the bill for the
office renovations?
for a song – at a low price, cheap. He got his new car for a song.
for the birds – terrible, awful. I work long hours and hardly get
paid. This job is for the birds.
 for the time being – at the present time. For the time being, let's
not make any changes to the report.
 free-for-all – mayhem, disorder. When the teacher left for a
meeting , it was a free-for-all in the classroom.
freeload – get things that others pay for. When my friend moved
into my apartment, stayed for a year and never contributed any money,
I knew he was a freeloader.
 from the bottom of one's heart – with great feeling , sincerely.
My sister thanked me from the bottom of her heart for saving her dog's life.
from the left field – unexpectedly, with an odd or unclear
connection to the subject. We were in the middle of a business
meeting when, out from left field, he asked about the weather.
from scratch – from the very beginning , starting with raw
materials. This chocolate was not made from a cake mix, she made it
from scratch.
fume – be angry. When I heard that she was talking about me to
other people, I was just fuming.
gall – shameless, insolent attitude. She spent all of her money on
clothes and music, and then she asked to borrow money for groceries.
She has gall.
 game – willing , ready. Okay, you want to make plans to go to China?
Okay, I'm game.
get a grip on oneself – take control of one's feelings . When he
lost the soccer game, he couldn't stop crying. I told him to get a grip
on himself.
get a kick out of – enjoy. I get a kick out of it every time I
see her dance.
get a load of – have a good look at. Get a load of those fancy cars
driving down the street.
get ahead – become successful. She is saving all her money, so that
one day she can get ahead.
 get along – manage. He realized that he was able to get along quite
well without his partner.
 get around to – finally find time to do something – I have put it
off for months, but I finally got around to cleaning the windows.
 get at – mean, hint. You tell me that I am slow at work. What are
trying to get at.
 get away with murder – not be punished for wrongdoing. – He's
the boss's son and comes in late everyday, but we can't complain. He's
getting away with murder.
get cold feet – be afraid at the last minute, lose confidence. I was
prepared to make a speech, but I got cold feet when I saw how many
people were going to hear it.
get down to brass tacks – begin important work or business.
Get off the phone so that we can discuss business. Let's get down to
brass tacks.
 get even – get revenge, settle the score. I was so upset when she
insulted me last week. I want to get even with her.
 get the runaround – be sent from place to place without getting
the information needed. It took me four hours to renew my driver's
license. I was sent to almost every department and seemed to get the
runaround.
get in on the ground floor – start from the beginning so you'll
have full advantage of any favorable outcome. He is a very wealthy
man. He was one Microsoft's first employees and got in on the
ground floor.
 get in the swing of things – adapt or adjust to a new
environment. After working two weeks in the new department, I
finally got into the swing of things.
get off the ground – make a successful beginning , go ahead. He
will finally take his project and get it off the ground in the coming year.
get off one's back – leave someone alone, don't bother. She
reminded me that I had to prepare for my trip out of town. I wish she
would get off my back.
 get off on the wrong foot – make a bad start. Having a fight
with a co-worker on my first day of work was not a good idea. I got off
on the wrong foot.
 get off the ground – make progress, make a good start. I finally
got my business off the ground.
get one's goat – make someone disgusted, annoyed, angry. Sitting
in traffic for 5 hours really got my goat.
 get out from under – end a worrisome situation. I am glad that I
am working again and making money. I finally got out from under my bills.
 get out of – withdraw. I would really like to get out of going to the
holiday party.
get out of hand – lose control. The party really got out of hand
when they started drinking alcohol.
get something off one's chest – unburden yourself, tell what's
bothering you. I feel better ever since I told him my problem and got it
off my chest.
get the ax – be fired. My company finally realized that he wasn't
doing his job. They gave him the ax.
get the show on the road – start a project or work. We have
been discussing unimportant things all morning. Let's get the show on
the road and start getting down to business.
get to the bottom of – find out the real cause. After talking to
my friend for an hour, I finally got to the bottom of why he was angry at me.
get under someone's skin – annoy, bother, upset. He has a
difficult and annoying personality and always got under my skin.
get up and go – ambition, energ y, enthusiasm – She always seems so
excited and motivated at work. She's got a lot of get up and go.
get up on the wrong side of the bed – be in a bad mood. My
son has been cranky all day. I think he got up on the wrong side of the bed.
get what is coming to one – what one deserves, good or bad.
After stealing so much money from the charity, I really hope he gets
what's coming to him.
 get wind of – find out, hear gossip or rumors about. I got wind of
the fact that they will be closing down our department.
give a hoot – care. I don't give a hoot who wins the election.
 give the cold shoulder – be unfriendly to, ignore. I was so mad
at my cousin, that I gave her the cold shoulder at the
wedding reception.
 give in – do as others want, surrender. I wanted to paint the room
blue, my wife wanted yellow. I had to give in.
 give it one's best shot – try very hard. I gave it my best shot, but
I still didn't make the team.
 give someone a break – give someone an opportunity or chance.
The actor struggled for many years. Finally, someone gave him a break
and put him in a movie.
 give someone a hand – help. I couldn't work my regular hours. A
co-worker gave me a hand and switched schedules with me.
give someone a piece of one's mind – say what you really think
when angry. I was so mad that he was late for the wedding , I gave him
a piece of my mind.
 give someone his walking papers – dismiss, fire, send away.
She got her walking papers on Friday and won't be coming
back to work.
 give someone the green light – give permission to go ahead
with a project. We were finally given the green light to begin setting up
the new project.
go cold turkey – stop abruptly. My doctor really wants me to quit
smoking. I decided to stop and go cold turkey.
go Dutch – each person pay for himself. If we have dinner together,
I insist that we go Dutch.
 go from bad to worse – deteriorate. Sales have been very slow
this season, but this was the worst week of all. It seems like it's going
from bad to worse.
 go out of one's way – make a special effort, do more than
necessary. I went out of my way to make it easier for you.
 go over – examine. Before I submit the report, I want to go over it
one more time for mistakes.
go over big – be very successful. Do you think my idea to have a
birthday party for our teacher will go over big?
go overboard – overact, be reckless. I've never seen so many
flowers at a wedding. Do you think maybe you've gone overboard?
go steady – go out with only one person romantically. Who did you
go steady with in high school?
 go to bat for – assist, help. I have overheard that she may be fired
from her job. I think she is a hard worker and I want her to stay. I'm
going to bat for her.
 go to pot – deteriorate, become undisciplined, unkempt. He has
quit his job, gained weight, and I think may be abusing drugs. It looks
like he's really gone to pot.
 go under the knife – have surgery. I'll be going under the knife
next week for some minor surgery.
go up in smoke – disappear, fail to materialize. She was going to go
on a vacation, but her mother got sick. Her plans have gone up
in smoke.
 go-getter – ambitious person. She is the most successful
salesperson I've ever seen. She's a real go-getter.
 goldmine – worth a lot of money, successful. His business is a major
success and will only get bigger every year. He is sitting on a goldmine.
goner – someone in a lot of trouble. His boss found out he has been
stealing from the cash register. He's a goner.
good sport – a person who loses well. Even though I beat you in
the game, you still congratulated me. You are a good sport.
goof off – not want to work, be lazy. I am tired of working so hard.
I just want to stay home and goof off.
 grab 40 winks – I felt so sleepy after my lunch, I decided to grab 40 winks.  
grand – $1000. It cost me a grand to stay in the luxury hotel.
greasy spoon – inexpensive restaurant with mediocre food. I hated
dinner last night. It turned out being a greasy spoon.
gung ho – enthusiastic, eager. He thinks his team is the best in the
league. He is really gung ho this season.
 guts – courage. He has a lot of guts to stand up to management.
 guy – man. That guy over there is my neighbor.
 half baked – foolish, silly. Opening up a store which sells only tape
will not be successful. It is a half baked idea.
hand it to someone – give credit, acknowledge. I've got to hand it
to you. Your idea to open a store in this location was great.
 hand over fist – rapidly. He's making money hand over fist.
 hand something on a silver platter – give a person something
that has not been earned. His father is president of the university and
his education was handed to him on a silver platter.
 hand to mouth – barely able to cover basic expenses. That family
is struggling since the father lost his job. I hear that they're living hand
to mouth.
 handful – a lot of trouble. My three year old runs around the house
and often breaks things. He's a real handful.
 handle with kid gloves – be very careful, tactful. His wife gets
upset very easily. He has to handle her with kid gloves.
 handy – can fix things, useful. She's very handy around the house. If
anything breaks, she can fix it easily.
 hang in there – be patient, wait. I know you want to quit school,
but hang in there. You only have 4 more weeks before your graduation.
 hard feelings – anger, bitterness. I know we had our differences,
but I hope there are not any hard feelings.
 hard up – in desperate need of something. Everyone comes to her
desk and takes supplies. I know she's hard up for pencils.
harp on – dwell on the subject, repeat, persist. I know losing your
job was awful, but don't harp on it. You are only making yourself more
depressed.
 has-been – a person once popular but no longer in public favor.
Since the movie star was found guilty of a crime, I haven't seen him in
any motion pictures. He's a has-been.
hassle – bother. Please stay home tonight. I don't want the hassle of
having to bring you and pick you up from the party.
 have a ball – have a good time, enjoy one's self. She had a ball at
her holiday party.
 have a crush on – be attracted to. I have had a crush on her since
5th grade.
 have a fit – become upset. She'll have a fit if she finds out you broke
her watch.
 have a good head on one's shoulders – be smart or sensible.
You have a good head on your shoulders and I'm sure you'll do fine in college.
 have a mind of one's own – be able to think independently.
Although we all voted one way, she voted in a completely opposite
direction. She's really got a mind of her own.
 have a prayer – have a chance. He's not good enough to make it on
the team. He doesn't have a prayer.
 have been around – to be experienced, sophisticated. She knows
all about office politics. She has been around for awhile.
have egg on one's face – be embarrassed. She called in sick to
work yesterday, but when I saw her at the store she had egg on her face.
 have it coming – deserve a punishment. I didn't study for the exam
and I failed. I had it coming.
 have it made – be sure of success, have everything. Ever since she
won the lottery, she can do whatever she wants. She has it made.
have it out with someone – discuss a conflict or
misunderstanding with the other person involved. My friend and I
had a big fight last week. This morning I had it out with him and now
everything is okay.
have one's feet on the ground – be practical, sensible, stable.
She'll make a great wife and mother because she has got both feet
on the ground.
have one's hand in the till – steal from one's employer. The
reason he has been buying such nice new clothes is that he's got his
hand in the till.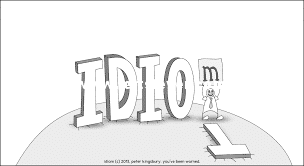 Most Common idioms used in IELTS Exam Part 2
Most Common idioms used in IELTS Exam Part 2
Most Common idioms used in IELTS Exam Part 2
Most Common idioms used in IELTS Exam Part 2
Most Common idioms used in IELTS Exam Part 2
Most Common idioms used in IELTS Exam Part 2
Most Common idioms used in IELTS Exam Part 2
Most Common idioms used in IELTS Exam Part 2
Most Common idioms used in IELTS Exam Part 2
Most Common idioms used in IELTS Exam Part 2
Most Common idioms used in IELTS Exam Part 2
Most Common idioms used in IELTS Exam Part 2
Most Common idioms used in IELTS Exam Part 2
Most Common idioms used in IELTS Exam Part 2
Most Common idioms used in IELTS Exam Part 2
Most Common idioms used in IELTS Exam Part 2
Most Common idioms used in IELTS Exam Part 2
Most Common idioms used in IELTS Exam Part 2
Most Common idioms used in IELTS Exam Part 2
Most Common idioms used in IELTS Exam Part 2
Most Common idioms used in IELTS Exam Part 2