Prepositions English Grammar Ielts Exam
Prepositions are short words (on, in, to) that usually stand in front of nouns (sometimes also in front of gerund verbs).
Even advanced learners of English find prepositions difficult, as a 1:1 translation is usually not possible. One preposition in your native language might have several translations depending on the situation.
There are hardly any rules as to when to use which preposition. The only way to learn prepositions is looking them up in a dictionary, reading a lot in English (literature) and learning useful phrases off by heart (study tips).
At – 8'o' clock                            I go to school at 9'o' clock.
10.30                                        The hospital closes at 5.30 P.M.
Mid night
On– Monday                                Good bye! see you on Monday.
25th April                                    I don't come on Wednesday.
New years Day                           The drama is on 22 November.
In– April / June                             I am going to Hyderabad in October.
1985 / 1750                                I was working here in 1998.
Summer / spring /                       Madikeri is lovely in rainy season.
Rainy season
From–
I lived in Bangalore from 2010 to 2014
Until + end of a period
The MLA is going to Bangalore. He will be there until Monday
Since + a time in the past ( to now)
Since Monday, since 1975, since 2.30.
John has been in Chikamagalur since Monday.
Mr. and Mrs. Rao have been living since 1968 in Bangalore.
For-a period of time
Ravi studied in this school for three years.
I am going out of station for a few weeks.
In, on, at (places)
in bed                                 at home                                    on a bus
in hospital                            at office                                    on the first floor
in the sky                             at station                                  on the way
in a car                                at friends house
Above and Below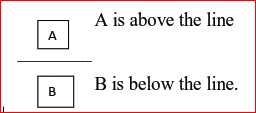 Exercises
The dog swam………….the river.
The book fell …………the shelf.
The car came ………….the corner.
They got ………………the train.
They went ………the house ……..the window.
I looked …………the window.
Do you know how to put a film ……….this camera?
In volleyball you have to hit the ball ……the net.
The photo is hanged ………….the wall.
I am not going out this afternoon, I am staying ………home.
Next month we hope to go ………Mysore.
I went …………Sagar's house yesterday.
Don't sit …………the floor.
What is there ……………your bag.
There are lots of fish …………this river.
My brother lives ………Bangalore.
There is a small park …………the top of the hill.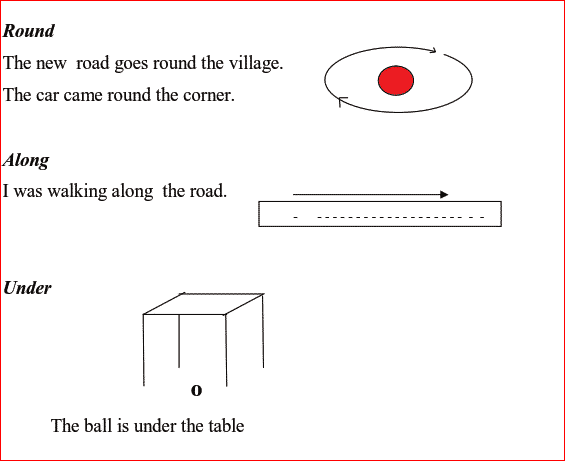 Also Read the WRONG USAGE OF PREPOSITION IELTS EXAM
Also Read Editing Paragraph Errors English Grammar ielts exam
https://www.facebook.com/ieltsfever
Prepositions English Grammar Ielts Exam Prepositions English Grammar Ielts Exam
Prepositions English Grammar Ielts Exam Prepositions English Grammar Ielts Exam
Prepositions English Grammar Ielts Exam