The pie charts below show the average household expenditures in a country in 1950 and 2010. Summarise the information by selecting and reporting the main features, and make comparisons where relevant.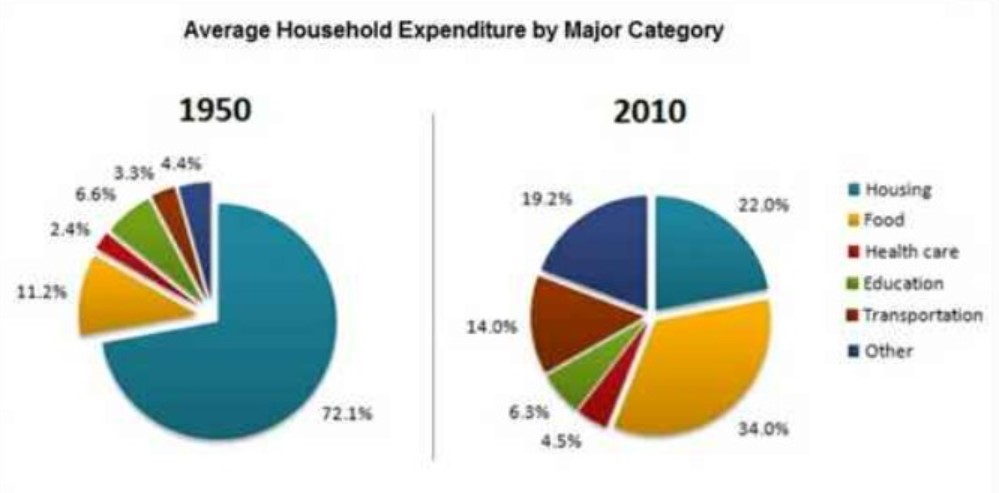 Sample Answer of The Pie Charts Below Show the Average Household Expenditures
The pie chart illustrates how the regular spending in 6 different faces in a country. Percentages wise in the year of 1950 and 2010.
Overall at the beginning of the period transportation and health care are the least. While housing was the most significant. In comparison, at the end of the period, food and housing became the largest, and health care and education's lowest appearance was made.
The midpoint of expenses in housing was 2 half quarters in 1950 that was dramatically dropped by 22% in 2010. In 1950 the other and transport are in the slight made of (3.4 %and 4.4% respectively) and it rose to 19.2%and 14.0% in 2010.
In the year of 1950, the education was about less than a fifth that gradually went up to constant of 34.0%.In contrast, the education and health care are 6.6%and 2.4% they are having only a few of changes with less than one-tenth in 2010.
Also, Read The Charts Below Show Local Government Expenditure in 2010 and 2015