The table gives statistics showing the aspects of quality of life in five countries.
Summarize the information by selecting and reporting the main features and make comparisons where relevant.
You should spend about 20 minutes on this task.
.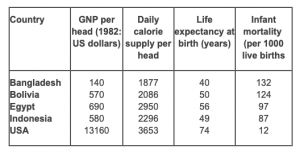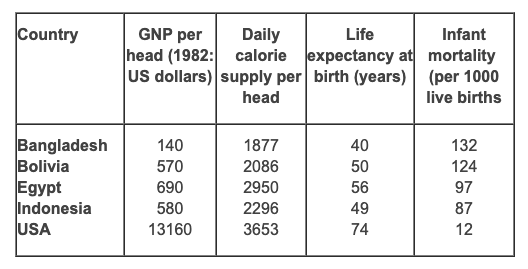 You should write at least 150 words.
SAMPLE ANSWER:
The diagram demonstrates the process that can be used in the building industry in order to manufacture bricks.
Overall, this process involves seven main stages, starting from digging the clay to ending with delivery.
At the initial stage,   a digger machine is used to dig the clay. After that roller is used to separate metal grid and clay. Then after sand and water are mixed with clay and the third process involves two stages. In the first stage wire, the cutter is used to manufacture bricks or mold can be utilized for making bricks in the building industry.  The fourth stage is a drying oven in which breaks are stored for one or two days for drying the bricks. Then after bricks can go through three main stages in the first kiln the bricks are stored in moderate temperature (200°c to 980°c) after that it is stored in other Kiln in  Which temperature is high around 870°c to 1300°c. And lastly, bricks are stored in the cooling chamber for another two to three days. Then last stage is delivery, so after packaging bricks are delivered to the different building industries.
---
This is the end of ACADEMIC  writing task 1( The table gives statistics showing the aspects of quality of life in five countries. Summarize the information by selecting and reporting the main features and make comparisons where relevant.)
For Other Updates Follow Us on Twitter