IELTSFever FREE Online Mock Test Day 103 Recent Exam Tests Must Read These Instructions before participating in Exam.
The answer to every question is mandatory; otherwise, we will not accept it. Send your answers to [email protected] with your name, city along with the question Test Number like IELTSFever FREE Online Mock Test Day 103 ( in the subject field of email), and you must send us the answer within 24 hours of the question.  We will not respond to late answers, and without a name, question no answer will be considered. For any help, you can contact on IELTSfever Facebook Page regarding IELTSFever FREE Online Mock Test Day 103 Recent Exam Tests.
---
Academic Writing Task 1
The pie charts below show the average household expenditures in a country in 1950 and 2010. Summarise the information by selecting and reporting the main features, and make comparisons where relevant.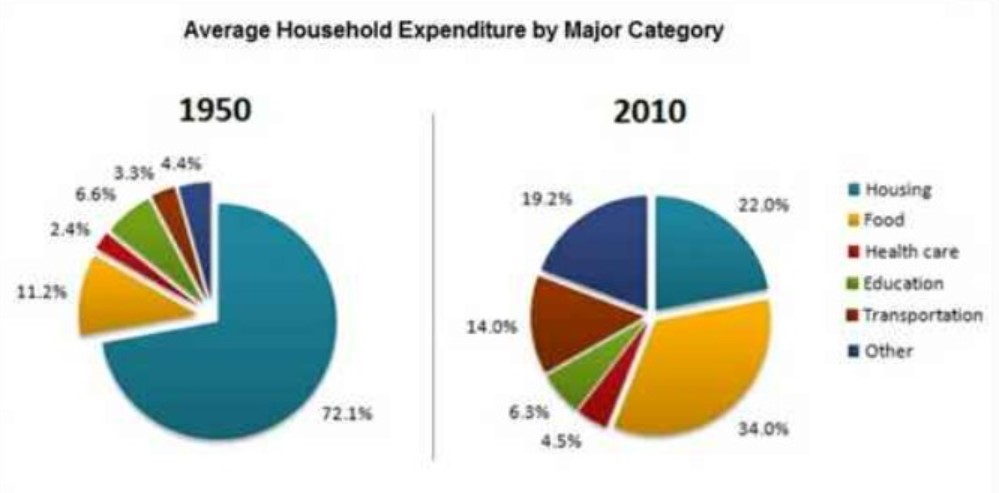 ---
General Writing Task 1
As an international student in Sweden, you have an account with a local bank. The monthly bank transfer you receive from your parents has been delayed this month due to an error at your parent's bank.
Introduce yourself and ask for a loan.
Say why you need the money.
Tell how you intend to pay back the money.
---
General / Academic Writing Task 2
Details of Politicians' private lives should not be published in newspapers. To what extent do you agree or disagree?
---
Academic / General Speaking
Part 1 Wallet
Do you use a wallet
Do most of your friends use wallets?
Have you ever lost your wallet?
Hove you ever given a wallet to someone as a gift?
Part 2 Cue Card
Describe a bag you want to own or have (Future)
What kind of bag is it?
Where you want to buy it
How much it will cost you
Why you want this kind of bag
---
Part 3 Follow-Ups
Why do you think women like to buy bags?
Is the backpack practical in life?
Why are some people willing to buy expensive bags?
In the future, what changes will bags have?
Why do children need to carry a uniform school bag?