IELTSFever FREE Online Mock Test Day 458 Recent Exam Tests Must Read These Instructions before participating in the Exam.
The answer to every question is mandatory; otherwise, we will not accept it. Send your answers to [email protected] with your name and city along with the question Test Number, like IELTSFever FREE Online Mock Test Day 458 ( in the subject field of email), and you must send us the answer within 24 hours of the question. We will not respond to late answers; no answer will be considered without a name or question number. For any help, you can contact us on the IELTSfever Instagram Page and Telegram channel. For IELTS Reading Tests and Listening Tests, click here
IELTSFever FREE Online Mock Test Day 458
Academic Writing Task 1
The maps illustrate an industrial area in Norbiton in the present day compared with plans for future development of the site. Summarise the information by selecting and reporting the main features and make comparisons where relevant.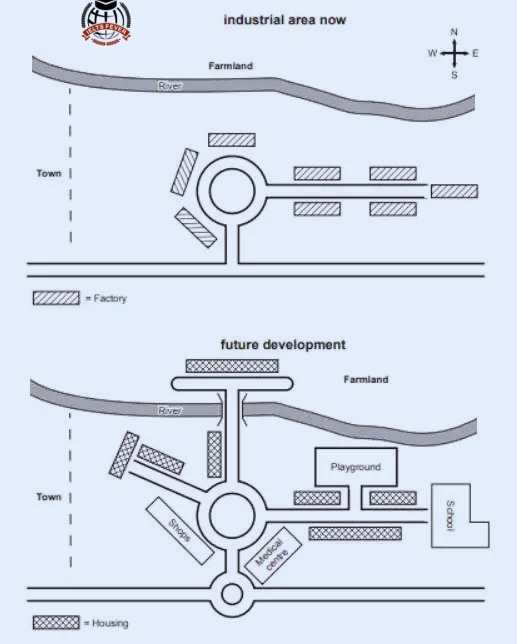 ---
General Writing Task 1
Your ID card has been stolen. Write to the Local Police Station, giving details of
who you are
what happened
ask what you should do to get a new ID card
---
General / Academic Writing Task 2
Some people believe that car-free days are effective ways to reduce air pollution. However, others argue that there are other ways that are more effective. Discuss both views and give your own opinion.
---
ACADEMIC / GENERAL SPEAKING
Part 1 Singing
Do you think singing can bring happiness to people?
Do you often sing?
When do you like to sing?
What kinds of music do you like to sing?
Is it difficult to sing well?
Do you want to be a singer?
Have you ever learnt how to sing?
What kinds of music do you like to sing?
Part 2 Cue Card
Describe a person who inspired you to do something interesting
Who is this person?
What this person inspired you to do?
How this person helped you?
Why this encouragement helped you achieve a goal?
Part 3 Questions – Motivation, encouraging people
Why should children learn from role models?
What qualities make a role model?
Why it is important for teenagers to set goals?
What will inspire children to learn more?
Do parents and teachers punish children nowadays?
Who do you think has a greater inspiration for the goal-setting of children?