IELTSFever FREE Online Practice Test Day 7 SOLVED (27-07-2020)
Must Read This Instructions before participating in Exam
The answer to each and every question is mandatory otherwise we will not accept it . Send your answers on [email protected] with your name, city along with question( in the subject field of email), and must send us the answer within 24 hours of question.  We will not respond to late answers and without a name, question no answer will be considered.
---
Academic Writing Task 1
You should spend about 20 minutes on this task.
The diagram illustrates the process that is used to manufacture bricks for the building industry.
Summarize the information by selecting and reporting the main features and make comparisons where relevant.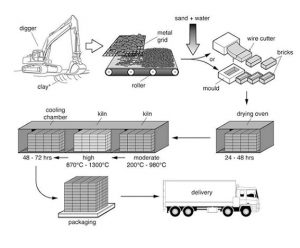 SAMPLE ANSWER:
the given process diagram elucidates the steps associated in order to produce the main resource of the building industry that is bricked.
the process of making bricks starts with excavating clay from the land which is done with the help of digger. Next steps follow to process of placing sand on a roller in order to filter out the sand and fine clay is carried out to the next zone with mixing clay with sand and water. this mixture is dropped inside the mold or wire cutter machine from which standardize bricks are made. these bricks are placed in a drying oven to remove water and make it hard for the time of 24 to 48 hrs.
furthermore, it passes to kiln were bricks are heated in steps with temperature 200 degrees celsius to 980 degrees celsius, then with 870 degrees celsius to 1300 degrees celsius. Furthermore, it is placed in a cooling chamber and is cooled for 48 to 72 hrs. cooled bricks are stacked for the packaging process and are delivered to the required places.
overall the process starts with refining clay to make bricks and ends up delivering to required customers.
-----------------------------SPONSERS-----------------------------
---
General  Writing Task 1
The company you work for is planning to provide special training for staff. Your duty is to find out if the local conference center has suitable facilities in order to hold the training. Write a letter to the manager of the conference center.
In your letter •
Give some details about the training course •
Describe what kind of equipment you will need for the course •
Ask some questions about the facilities at the conference center
Write at least 150 words. You do NOT need to write any addresses. Begin your letter as follows:
sample answer :
Dear Manager,
I am writing this letter to inquire about the vacant conference hall for approximately 60 people at your place for a special training course our company is planning to organize.
Our company's HR team is forethinking the training on Saturday 29th of the coming month. This will be 4.5 hours long training and it is regarding employee's health and safety. Since it is for worker's health and safety we will require some of the equipment that will result in better explanation to staff. In addition, it will be appreciated if you arrange this teaching in the morning between 8 am to 1 pm.
Since our company is inviting one of the reputed doctors and police inspector of the town for the training, the arrangements should be up to the mark. Certainly, we will require some basic stationery, refreshments, and most importantly sanitizers. Moreover, we will also be needing one first aid kit and a bike helmet for the training purpose.
However, I would also like to ask some questions regarding your conference center. For instance, how are the security and parking arrangements at your premises? Do you have a pantry or cafeteria if we arrange breakfast in the middle of the training? Are there any other complementary facilities apart from basic arrangements? And last but most importantly, can you please send me quotations through email?
Thank you and I'm looking forward to hearing from you.
Sincerely,
Abc
---
Academic /General Writing Task 2
Some parents say that children should play individually more than in a group.
-----------------------------ADVERTISEMENT-----------------------------
Discuss the advantages and disadvantages of this and include your own opinion)
sample answer:
introduction:
Recreational activities are mandatory for kids as they help in the upbringing of the
child
's mental as well as social wellness. However, from ages there has been an ample amount of discord by a few citizens in relation to whether the youngsters should play solely or join with other people around them. In view of the above, a few merits and demerits are being discussed below.
paragraph 1:
Group activities will eventually bring out the inherited talents which are often not discovered by the parents. For instance, a boy who is inclined towards playing cricket or football cannot become a star or discover his talent by learning the game on his own as it's a collective skill where the team wins by everyone's effort. So parents cannot force to play alone in such circumstances as we are curbing the child's interest to flourish. Furthermore, as its the age of critical thinking pre-adolescents can analyze and evaluate due to the interaction with different wards of the same age group.
paragraph2:
On the contrary, a congregation with various people may sometimes have an unwanted behavioral change in a kid. To quote an example, the naiveness of a child's behavior is such that it tends to get carried away easily so under a bad company child may get addicted to narcotics or may even have antisocial feelings. For this fear, many parents do not encourage their child to mingle with other kids as habits descend non genetically too.
conclusion:
In the final analysis, I would like to conclude by saying that while it is opined by plenty of parents that it is a healthy way to let the kid engage in his free time by himself, they should be well aware the impediments would outweigh the gains by such obsessive personalities of mothers and fathers.
---
Academic /General speaking 
describe an occasion when you get lost
sample answer:
Whenever I stepped out of my home, I experienced crowds and overpopulation in India, because of a densely populated nation. Let me describe an event where I have remembered today where I lost myself from my school team.
It was graduation day where my college decided to have a small trip to Kutch in Gujarat, which is an adorable place and admired by many tourists, located in the western part of India and close to India- Pakistan border. Being last year's students, we were excited after the announcement by college management. It was the last time where I was going with my classmates and close friends outside of the university campus.
The excursion started in the early morning, where two buses headed towards the most exciting journey. We all friends dancing and singing and enjoying the moment with others. The whole day we spent seeing sightseeing and visiting other tourist places. On the next day, we arrived at lord shiva temple which was overcrowded due to an important festival for local dwellers on that particular day.
The place was covered by thousands of people. After reaching the core part of the temple, I devote myself to God and pray. While returning back, I found that no peers surrounded me. I started looking in various places, unfortunately, I couldn't find them. It was so populated I couldn't see my friends all around.
After almost an hour of my efforts to look for them, I was exhausted and thirty, also starving as no breakfast since morning. Finally, I got an idea to reach the parking spot where the bus was parked, then quickly I rushed there and waited for them to arrive. Lastly, all my classmates came that parking slots, while seeing them, I felt so excited and hugged my close friends.
After that incident, I decided I won't be part of such places where I can lose myself and be ungrouped from peers.
---
IELTSFever FREE Online Practice Test Day 7 SOLVED
---
For Other Updates Follow Us on Twitter
-----------------------------SPONSERSs-----------------------------