IELTSFever FREE Online Practice Test Day 9 SOLVED(31-07-2020)
Must Read This Instructions before participating in Exam
The answer to each and every question is mandatory otherwise we will not accept it. Send your answers on [email protected] with your name, city along with question( in the subject field of email), and must send us the answer within 24 hours of question.  We will not respond to late answers and without a name, question no answer will be considered.
---
Academic Writing Task 1
You should spend about 20 minutes on this task.
The charts below show the main reasons for study among students of different age groups and the amount of support they received from employers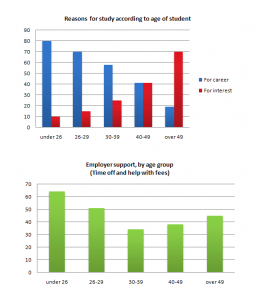 Summarize the information by selecting and reporting the main features and make comparisons where relevant.
-----------------------------SPONSERS-----------------------------
You should write at least 150 words.
sample answer:
The bat graph illustrates the ratio of scholars who continue their education to get benefits for their career and passion according to their age group as well as the support they get from their employers.
Overall, having a good career is the main cause for youngsters to study while the study is mostly keenness when they grow up. Moreover,
young
students get more support from their employers regarding their education.
It is apparent that 80% of pupils study for their career and they are under 26years old. However, for the purpose of personal interest, the higher age group over 49years old choose to continue their study with 70%. Interestingly, an equal percentage of students, aged 40 to 49 study for their career and interest in subjects.
Further analyzing, the employers give more support to young pupils who are under 26 years old. In addition, elderly workers get the least support from their employers, these are in the age range between 30 and 39 years old. However, the age group 40 to 49 receives approximately 39 to 44 % support.
---
General  Writing Task 1 IELTSFever FREE Online Practice Test Day 9 (SOLVED)
spend about 20 minutes on this task.
your neighbors have recently written to you to complain about the noise from your house flat.
Write a letter to your neighbors. In your letter:
explain the reasons for the noise
apologize
describe what action you will take
SAMPLE ANSWER:
I am
writing
this letter in response to your raised complaint of loud noise arising from our
flat.
I sincerely seek your apology for the unexpected incident that happened.
In the hope that you would understand the unavoidable situation, I take this opportunity to express my feelings. Firstly there was a leak in the bathroom wall that started a week ago subsequently the query was taken to the owner who indeed turned a deaf ear to our compliant .In addition, water slowly started dripping from the leak which turned into a downpour.
Owing to this we were unable to use the washroom hence immediately I called the plumber who instigated thorough check and informed us there is an internal breakage of a pipeline which has to be repaired immediately or else may damage the roof too. hence upon our request, he started his work to break the wall which leads to the loud thumping sounds for half of the day.moreover as the concrete was hard his hand drill made quite irritational noise during his work.
I once again request you to consider my plea and would be grateful if you could relate to our dire circumstances. The work has been successfully finished so we would be thankful if you can accept our invitation and visit our home this coming Sunday for a small get together at 5 pm.
---
Academic /General Writing Task 2
Research indicates that the characteristics we are born with have much more influence on our personality and development than any experiences we may have in our life. Which do you consider to be the major influence?
---
Academic /General speaking  IELTSFever FREE Online Practice Test Day 9 (SOLVED)
Describe a large company that you know:
you should say
what kind of company it is
what the company does
why you are interested in it
and explain how you became interested in this company.
SAMPLE ANSWER:
-----------------------------ADVERTISEMENT-----------------------------
Well, everyone dreams to work in such an environment which does not only promote healthy competition but also includes amiable employees. so here I would like to describe a large company that I know it is none other than Google multinational company.
This is a renowned company that always lured me because of its perks. Yes, I really want to work in Google company. Actually a few months ago, my cushion was looking for a company to work as an intern. Then he asked for a favor from me. I googled different companies that might be of interest. Then I thought why not search about google itself. People working there are known as Googlers. It's perks to the employees astonished me. The employees of this company do not face any health issues because it provides a free gym. It's really helpful to be as fit as a fiddle.
Apart from this, there are
Many organizations do not care about employee's well-being and people always have to overwork. However, in Google, Googlers can head over to the on-site massage therapists. It does not save money but also refrains people from the stress of overwork. I consider it as the cherry on the cake.
In addition to this, they have 20% time police. This policy goes by the ratio of 80% work and 20% play. These benefits really encouraged me to work hard and achieve my goal of working in the Google company. I feel this is a win-win situation because happy employees show more productivity in the work.i would consider myself a fortune if I get a chance to work there. So this is the large company that I know.
---
follow-ups:
1 What are the differences between a big company and a small company?
According to my observation, there are many differences between big companies and small companies. If   I talk about Big companies, these provide more benefits to their workers such as health insurance, bonus, house allowance, overseas allowance, and many more.on the other side, small companies provide limited benefits to their workers
2. Are there any big companies in your country?
Yes, India is a county of diversity and there are many companies, which very big such as Tata, Mahindra, Reliance, Videocon, Godrej, and many more.
3. What are the good things about working for a big company?
well,  I think that big companies provide many more benefits to their employees as well some other benefits such as health insurance, house allowances and so on.
4. How can a small company grow big?
Small companies can grow in many ways. Employees can work hard, focus on good quality, preference the customer choice, giving a good climate for work, better focus on marketing strategies. so these are the ways that are helpful  To grow a small company in a big company.
5. Should big companies donate more to charities?
Yes, they should. I personally feel that anyone who has sufficient money should help the needy people. There are many bing companies that help NGOs. This charity also enhances the productivity of these big companies because they get publicity by doing this type of work and this is a free advertisement for them.
---
IELTSFever FREE Online Practice Test Day 9 SOLVED  (31-07-2020)
---
For Other Updates Follow Us on Twitter