IELTSFever FREE Online Test Day 37(19-10-2020) 
Must Read These Instructions before participating in Exam
The answer to each and every question is mandatory otherwise we will not accept it. Send your answers to [email protected] with your name, city along with the question( in the subject field of email), and must send us the answer within 24 hours of the question.  We will not respond to late answers and without a name, question no answer will be considered.
---
Academic Writing Task 1
The given pie charts compare the expenses in 7 different categories in 1966 and 1996 by American Citizens.
Summarise the information by selecting and reporting the main features, and make comparisons where relevant.
You should spend about 20 minutes on this task.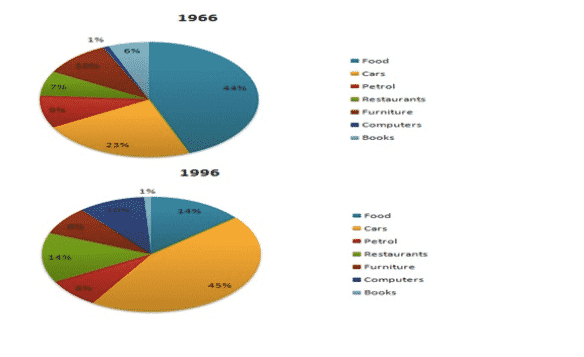 ---
General  Writing Task
You are a student at a language school in New Zealand studying Business English. Part of the course is a summer work placement program. Unfortunately, you have just learned from the school that this program has now been canceled.
Write a letter to the School Principal. In your letter:
state your reason for writing
describe the problem and your concerns
explain what you would like the Principal to do.
---
General/ Academic Writing Task 2
More and more businesses, as well as individuals, are choosing to communicate either professionally or socially using technology rather than being face to face
Discuss the advantages and disadvantages of using technology for communicating
---
Academic /General speaking
Describe a time you saw children behave badly in public.
You should say
Where it was?
What the children were doing?
How others reacted to it?
And explain how you felt about it?
---
IELTSFever FREE Online Test Day 37(19-10-2020) 
For Other Updates Follow Us on Twitter