The map below shows a civic centre between the present and its plan. Summarize the information by selecting and reporting the main features, and make comparisons where relevant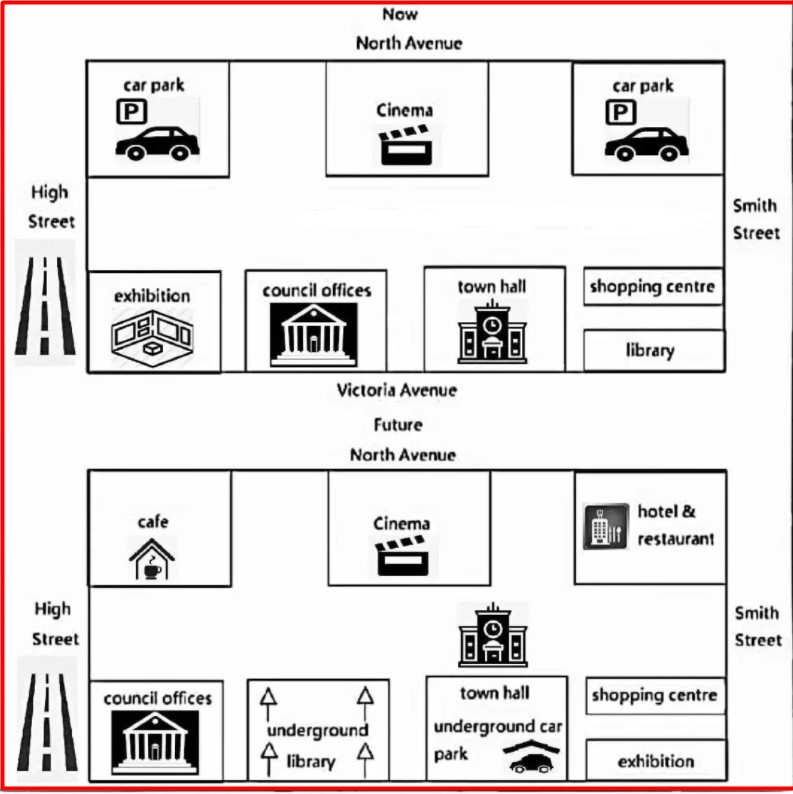 Sample Answer of Shows a Civic Centre Between the Present and Its Future Plan
The yielded diagram demonstrates a civil centre present-day view and plans.
Overall, it can be seen that it will improve provision and build underground places that are not currently available after advancement. In addition, the left side of the centre is the high street and smith street on the right side. North Avenue is in the top direction, while the opposite side has victoria avenue.
Currently, the northern top centre has a cinema and car parking is on both sides. The exhibition location is on the southeast corner, the western side next to council offices and town hall. Moreover, the library is on the southwest corner while the top of the direction is the shopping centre area.
In future, cinema and shopping centres will remain in the same location. However, the cafe will take northeast corner car parking place and hotel& restaurant another parking. The underground library will develop in council offices, and it shifts to exhibition location. Furthermore, the exhibition will have in smith streets south corner. New underground car parking will build in the town hall.
Follow Us on IELTSFever Instagram for more updates and the latest test tasks.
Also, Read The Chart Shows the Employment Status of Adults in the US