The Diagrams below show changes in a cinema from 1980 until now, summarize the information by selecting and reporting the main features, and make comparisons where relevant.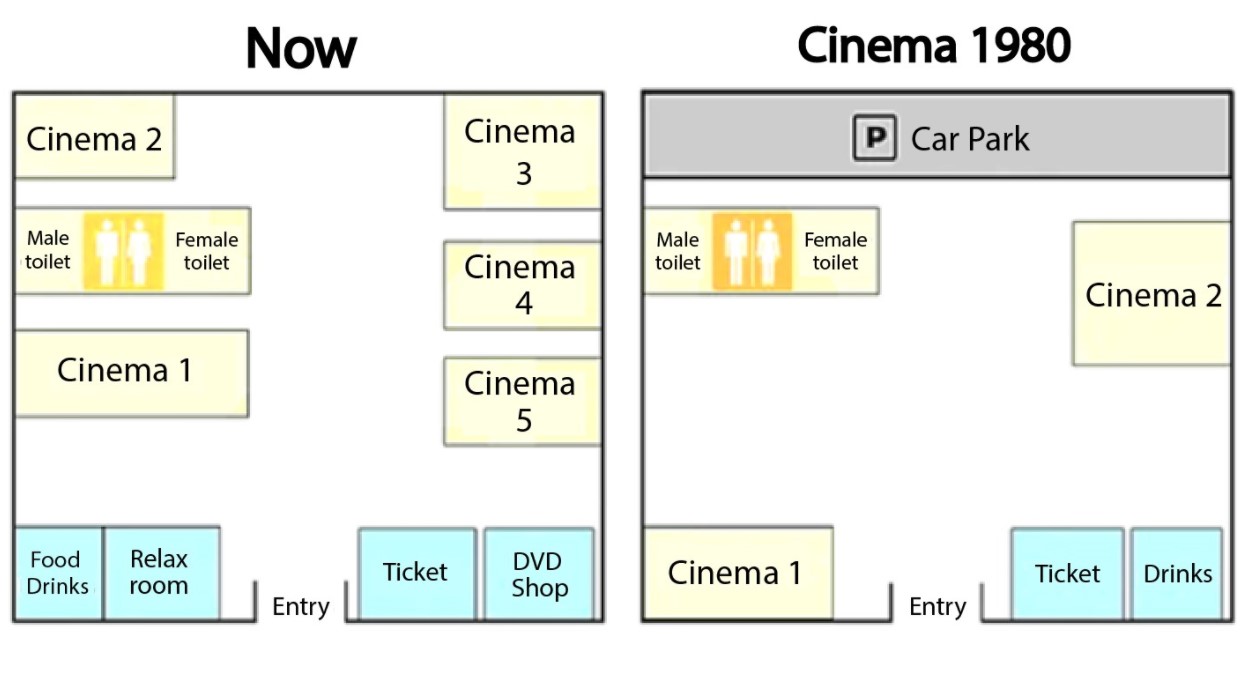 Sample Answer of The Diagrams Below Show Changes in A Cinema from 1980 until Now
The yielded two pictures illustrates the changes in a cinema from 1980 and nowadays.
Overall, it can be clearly seen that after advancement cinema screen rise and more shops build.
In 1980, in the north, left to the right side used as car parking and the entrance was on the south centre direction. Two cinema 2 was on below car parking, and another was on the left side of the entry point. Opposite cinema 2 was the male and female toilet. The right side of the entry had tickets, and next to it was drinks.
After development nowadays, no made changes in the entrance, ticket collection and male and female toilet. However, cinema increased to 5, cinema 2 moves to the north-west corner, next to the toilet, is cinema 1, relocated in the northeast corner new cinema 3 constructed and in the south direction next to cinema 4 and 5 respectively. Food drinks shifted to the bottom left corner and alongside has relaxed room. DVD shops developed in drinks area.
Follow Us on IELTSFever Instagram for more updates and the latest test tasks.
Also, Read The Pie Chart Below Shows Energy Is Used in a Typical Australian