The bar chart shows the number of cars per 1000 people in 5 European countries in 3 years and compares with the European average.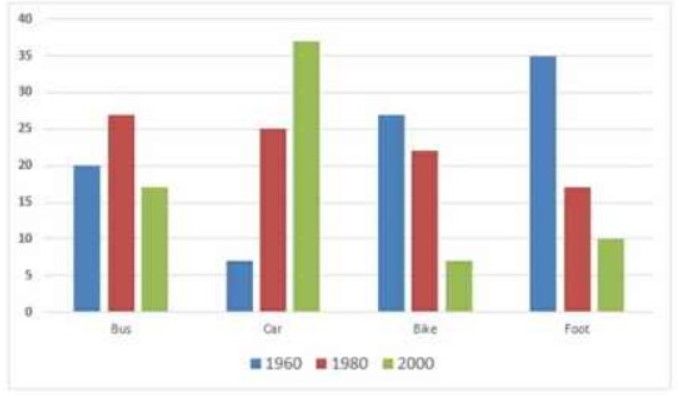 Summarise the information by selecting and reporting the main features and make comparisons where relevant.
---
The bar graph depicts the amount of motor vehicle per thousand individuals in different European nations in 3 years.
In 1960 the usage of the bus was 20 thousand which was surge by almost 13 thousand after two decades. Whereas, After twenty years it was declined by 18 thousand which was around 17 thousand. On the other hand, the utilization of Bike was decreased after every two decades. In 1960 it was almost 27 thousand which was declined by 5 thousand, later it falls at only 7 thousand in the year of 2000 which was very low.
Furthermore, Consumption of cars was almost 7 thousand in 1960, a sudden increase was observed, which was 25 percent after two decades, and again after twenty years, it was seen at peak, which was almost 37 thousand in 2000. In 1960 people prefer foot which was 35 thousand but after twenty years it was declined by around 18 thousand, after few years a slight fall has been noticed which was 10 thousand in 2000.
Overall, A fluctuation has been seen in the use of buses. Whereas, Preference for cars was increased by the time. On the other hand, Most people avoid using foot year by year.