Describe country where you would like work for short time
You should say:
In Which country?
What type of job you would like?
Why do you want to go there?
Describe the country where you would like to work for a short time
Sample 1:-
Well, it is quite evident that people from developing countries are migrating to developed nations due to work or study. And here I would like to talk about a country named Australia where I would like to go and work for a short time. I explain my plan briefly.
Australia is a developed nation. Many people go there for study and work. There are all facilities are available in Australia such as well-reputed universities, job opportunities and so on. I had completed my 12th class with 90% marks.
Now, I have joined the IELTS course in order to go abroad for further studies. I have taken this course to brush up my English speaking skills and communication skills. I will get good band scores in this course. Then, I will go to Australia.
There firstly, I will complete my studies. Then I shall work in the Hotel Management company to get the experience of work for one year. After it, I shall come back to India in order to put a contribution to its development.
I shall open a restaurant with modern facilities and provide job opportunities to the local persons. All in all, it is my dream and plans to work in a foreign country for a short time.
Sample 2:-
Well, Everyone wants to work in a developed country where he can get more chances to prove himself and can earn more money as he deserves. I also want to go outside of my country and want to do what I like to do. I have so many options of countries but I prefer America for many reasons and would like to talk about it briefly.
America is the most advanced and developed country in our world. It has been briskly growing for many reasons. It has already exceeded so many developing countries in numerous fields such as technology, economy, etc. There is a larger difference between the economy of India and America.
Also, in America, there are so many people who are most popular throughout the world. I think by working there, I will get a chance to explore myself and also have a chance to know the way that how they work.
To be honest, I want to go there as architecture because by doing this, I will get a chance to know the latest designs, and software which they use to make new designs of big shopping malls, hospitals, and colleges. So, I will explore more ideas and will make larger buildings in own country. I already started planning to move there and hopefully, I will make my dream true.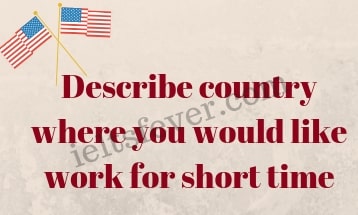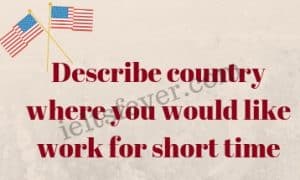 Also, like our Facebook page IELTSFEVER