IELTSFever FREE Online Practice Test Day 10  SOLVED (3-08-2020)
Must Read This Instructions before participating in Exam
SPONSERSs
The answer to each and every question is mandatory otherwise we will not accept it. Send your answers on [email protected] with your name, city along with question( in the subject field of email), and must send us the answer within 24 hours of question.  We will not respond to late answers and without a name, question no answer will be considered.
---
Academic Writing Task 1
You should spend about 20 minutes on this task.
Below is a map of the city of Brandfield. City planners have decided to build a new shopping mall for the area, and two sites, S1 and S2 have been proposed.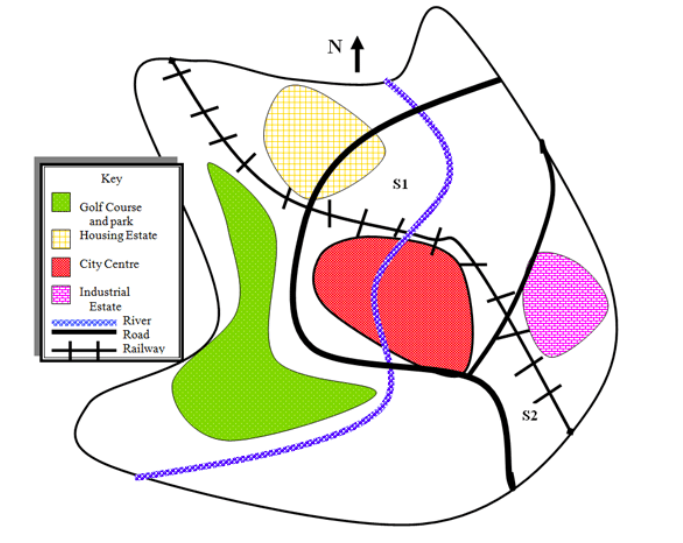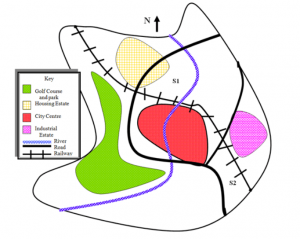 Summarize the information by selecting and reporting the main features and make comparisons where relevant.
SAMPLE ANSWER:
The assigned map illustrates the two sites s1 nd s2 for the construction of a new shopping mall in the brand field city.there is a huge difference between s1 and s2 sites.
Additionally, these golf course and the park is larger towards the west of the city than other places and sites.
Site s1 is located in the north part of the city between the city center and the living complex. the entire mall surrounded by a river, the main road, and a railway. by contrast, when a new shopping complex is constructed in the city of Bradfield, transport facilities are fairly convenient and easy access to every part of the city.
The second site s2 is towards the southeast end of the city is close to the main roads and the trains road. interestingly, this site is also close to the industrial zone and the city center.
---
General  Writing Task 1
You have a Facebook friend living in another country and s/he is curious to learn about a major news item in your country.
Write a letter to your Facebook friend. In your letter
describe a news story in your country
explain why people are interested in it
say how the story personally relates to you
You do NOT need to write any addresses. Begin your letter as follows:
Dear …,
SAMPLE ANSWER:
Dear Renu,
I am Balwinder Kaur, your's Facebook friend. Hope you are well. I am writing this letter regarding the vital news in my nation as you are excited to know about it. India is known as a country of festivals. In India, every season festivals are celebrated according to the traditions. Therefore, these festivals fulfill the life of individuals with joy.
I want to let you know that people are in favor of celebrating these festivals. Since India is a diverse country, people celebrate festivals according to their religion. These festivals fill the colors in their life. There are various festivals that are celebrated in India such as Diwali, Holi, Lohri, and Christmas, etc.
Now, the festival of Diwali is coming. I also enjoy this festival because I got a full week vacation to celebrate this festival. As it is a Sikh religious festival, hence, sometimes I also used to visit the Golden temple. Here I do worship of God. After that enjoy the lightning and crackers to celebrate this festival. I also offer sweets to my friends and relatives. I am sure you will feel wonderful by getting this news about my nation.
Yours truly,
Balwinder Kaur
---
Academic /General Writing Task 2
Advances in technology and automation have reduced the need for manual labor. (opinion) Therefore, the working hours should be reduced.
To what extent do you agree or disagree?
SAMPLE ANSWER:
INTRODUCTION:
Advances in technology and automation have reduced the need for manual labor. Therefore, the working hours should be reduced to .what extent do you agree or disagree.
Improvement in technology and automation leads to ample negative effects for manual labor, thus some people say that working hours should be decreased. However,I completely agree that reducing working hours would be fruitful for employees due to several reasons.
PARAGRAPH 1:
To begin with, there are several reasons responsible for why I believe that longer working hours will be reduced. Firstly, shorter working hours will be helpful for the employees to maintain a balance between personal and professional life. In instance, if the working hour will reduce, then the masses can easily spend quality of time with their family members. Secondly, doing work only limited hours will be assisted to perform better for the next day. As a result, the employees will do a lot of hard work and feel much more satisfied with their work.
PARAGRAPH 2:
Furthermore, reducing the working hours will be supported to improve the employees' health. To exemplify, nowadays, the masses do work for a longer time than they experience ample problems pertaining to health. If people do work less time then they can easily take care of their health and easily perform different activities in their leisure time. what is more, in order to develop new skills, working hours should be minimized. Moreover, it will be helpful in reducing the employees s' stress and also they get a chance to learn new skills.
CONCLUSION:
To conclude, it seems to me that the working hour of office employees should be minimized as it would be supported to motivate staff and get better performance as well as good output from employees.
---
Academic /General speaking 
Describe a mistake you once made in your life.
You should say:
what mistake it was
how you made this mistake
when it was
and explain how it affected you. 
SAMPLE ANSWER:
Making a mistake is part of our life, so if we do not make a mistake, we do not learn new things. The important thing is that everyone makes mistakes, but some people learn something from mistake and some people get angry and spoil everything. So, it depends upon a person how he or she manages it. But, here I would like to talk about one such mistake which I have done recently. This was happened about 6 months ago. First of all, on the same day as my exam, I was quite excited. The fact is that my listening section was too good to a great extent, I was very comfortable while listening. Moreover, during the reading time, I made a huge mistake, which I can not forget. Actually , I did not manage the proper time for three passages because I was confused in time. The volunteer speaks only 5 minutes left, but I heard that they speak 15 minutes left. After that, I saw merely 5 minutes left and I was too late. There are total of 20 questions are left and within last 5 minute I did not attempt all question and I skipped 10 questions. Add it more, I really regret this mistake because my reading Was easy. At that time I was down in the dumps. In addition, I got merely 5 bands in reading. This was a blunder mistake in my life.I hope next time I would never repeat this type of mistake. Therefore, this was the time, when I did a mistake.
follow-ups
1 What can we learn from our mistakes?
Answer. We can learn ample of things from our mistakes. First of all, we can easily get experience from our mistakes because if we do mistake after that we find out a solution to solve those mistakes and do not repeat the same mistake for next time. The most important fact is that we can learn valuable lessons from our mistakes.
---
2. Do children make mistakes easily?
Answer. Making a mistake is a part of our life. Children easily make a mistake in our life because sometimes they have no sense, what is wrong or what is right and they learn a lesson from the mistake.
---
3. What should parents do if their children make mistakes?
Answer. Parents play an indispensable role in each and every child's life .parents  should guide their children in a different way, such as they should set a good example in front of their children because children follow the footprint of their parents. secondly, parents should teach their offspring in polite as well as a friendly way.
---
4. How do children benefit from using dictionaries?
Answer. Children get ample benefits from a dictionary. Firstly, with the assistance of dictionaries, children understand new words and also easily understand the meaning of words. Secondly, the dictionary also helps the children to understand that a word may have the same spelling but different meanings. With the help of a dictionary , children can develop their literacy skills.
---
IELTSFever FREE Online Practice Test Day 10 SOLVED
---
For Other Updates Follow Us on Twitter