The chart below shows global sales of the top five mobile phone brands between 2009 and 2013. Summarize the information by selecting and reporting the main features, and make comparisons where relevant.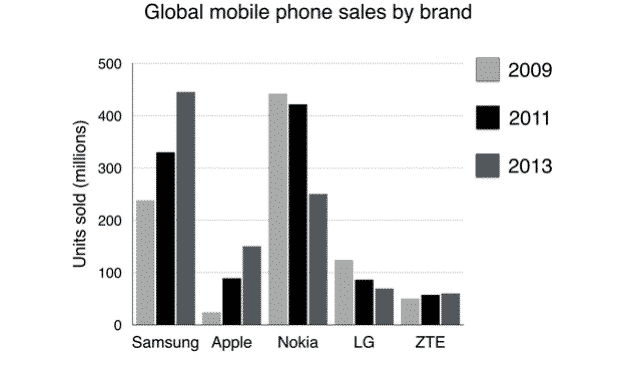 The bar graph illustrates how many mobile phones had been sold out in three different years (2009,2011 and 2013) by five brands, namely Samsung, Apple, Nokia, LG and ZTE, in the whole world.
Overall, Nokia company sales stood at the top, while ZTE cellphones sales were bottom. An increasing trend was observed in the case of Samsung, Apple and ZTE brand's sales. Conversely, a decreasing trend existed in the number of Nokia and LG brands sold in the three different periods.
With regards to Nokia, in 2009, more than 400 million units were sold and then the figure experienced a slight decrease in 2011. After this point, there was a significant fall in sales to about 250 million units in 2013. Likewise, a decline was present in sales by LG company. However, the fall was not rapid.
In terms of sales by Samsung, the remarkable upward trend in sales was there over the period .while it started only with just over 200 million units in the first year, it reached a peak of around 450 million in 2013.
In the same way, Apple company sold very few units in the first year, and it rose gradually to the end.ZTE company sold fewer units in comparison to other brands sales. However, there was a growth over the period with the almost same number of units sold in 2011 and 2013.
Follow Us on IELTSFever Instagram for more updates and the latest test tasks.
Also, Read The Bar Chart Shows the Number of Cars Per 1000 People