The Vertical Bar Graph Manifest the Information Regarding the Fertility Rates of Females.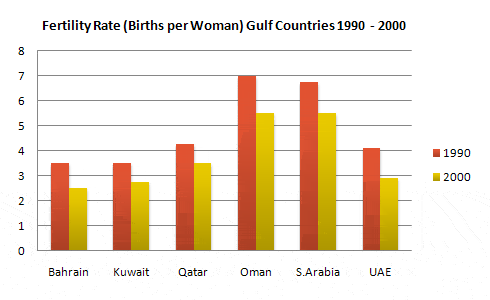 ---
Sample Answer
The vertical bar graph manifests the information regarding the fertility rates of females in 6 distinct Gulf Nations namely, Bahrain, Kuwait, Oman, Saudi Arabia, and UAE during 1990 and 2000.
Overall, the most eye-catching feature is that the birth rate was declined over the decade, and women of Oman and Saudi Arabia had the highest fertility rate as compared to the women of the rest of the countries.
As is presented in the bar graph, in 1990, females in Oman had a significant fertility rate that reached as high as 7. Followed by Saudi Arabia, the childbirth rate was between 6 and 7. The remaining countries Qatar, Kuwait, UAE, and Bahrain had a childbirth rate was below 5. Bahrain and Kuwait's birth rate was similar during the timescale. After a decade, the fertility rate in these countries was dipped over time. The birth rate of Oman and Saudi Arabia fell down equally between 5 and 6. In the case of Qatar and UAE, fertility rates were slumped. The former childbirth rate was 3.5 and the latter birth rate was 3. The same trend was observed in Bahrain and Kuwait where women's fertility rate was roughly and equal to 3.